Posted on August 20th, 2015 by admin
Plans for a suspended swimming pool have been unveiled for Embassy Gardens at Nine Elms on London's South Bank.
The 'Sky Pool' will link two residential buildings at the 10th floor and allow residents to swim from one building to the other.
The pool is entirely transparent and structure free, 25m long, 5m wide and 3m deep with a water depth of 1.2m.
Designed by Arup Associates, with specialist input from Eckersley O'Callaghan and aquarium designers Reynolds, the pool will have glass that is 20cm thick.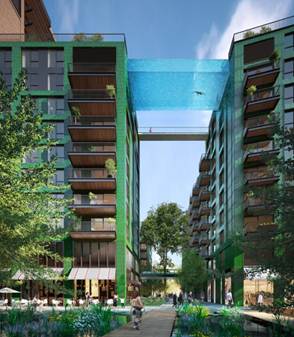 Sean Mulryan, Chairman and CEO of developer Ballymore Group has been the driving force behind the pool.
Ballymore and partners Eco World are developing the second phase as Eco World Ballymore.
The buildings that the pool link are part of the second phase of the development which will be released to market in September, soon after the first residents have started to move in following the completion of phase one.
Read More
Posted on August 6th, 2015 by admin
Barratt London is preparing to start construction of a 28-storey twisting tower on one of the last remaining Thames riverfront sites in Wandsworth.
Enabling and piling works will get underway this month after the developer gained full planning for the 135 apartment scheme at Lombard Wharf, adjacent to the Grade II listed Cremone Bridge.
Barratt London has allocated 20% of the apartments for on-site 'affordable' housing and is committing £1.6m to improve local infrastructure.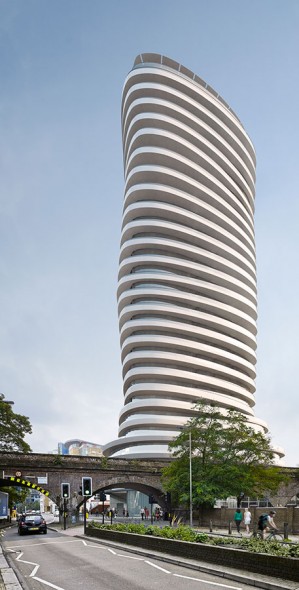 Designed by local architects Patel Taylor, wraparound balconies, rotated at an angle of two degrees, appear as a series of 'rotating discs'. This optical twist is achieved by the diagonal lines of tapered solid balustrades jutting against the horizontal lines of the balconies.
Homes will achieve Code for Sustainable Homes Level 4 and a BREEAM Excellent Rating.
The ground level features a double-height glazed residential lobby and a riverfront retail unit. The mezzanine level contains a second floor to the retail unit, a gym for residents, staff facilities and management welfare facilities. Bays for 30 cars and 182 bicycle spaces are provided at basement level.
Alastair Baird, regional managing director of Barratt London, said: "Lombard Wharf is one of the last remaining plots on the Thames and we are looking forward to regenerating this brownfield site, which has been vacant since 2012 and currently restricts pedestrian access along the river."
Read More